Splunk
The Notorious B.I.G. D.A.T.A.
Analytics-driven SIEM security
Splunk Enterprise Security (ES) enables security teams to use all data to gain organization-wide visibility and security intelligence. Regardless of deployment model—on-premises, in a public or private cloud, SaaS, or any combination of these—Splunk ES can be used for continuous monitoring, incident response, running a security operations center or for providing executives a window into business risk.
Splunk ES provides organizations the ability to:
Improve security operations with faster response times
Improve security posture by getting end-to-end visibility across all machine data
Increase detection and investigation capabilities using advanced analytics
Make better informed decisions by leveraging threat intelligence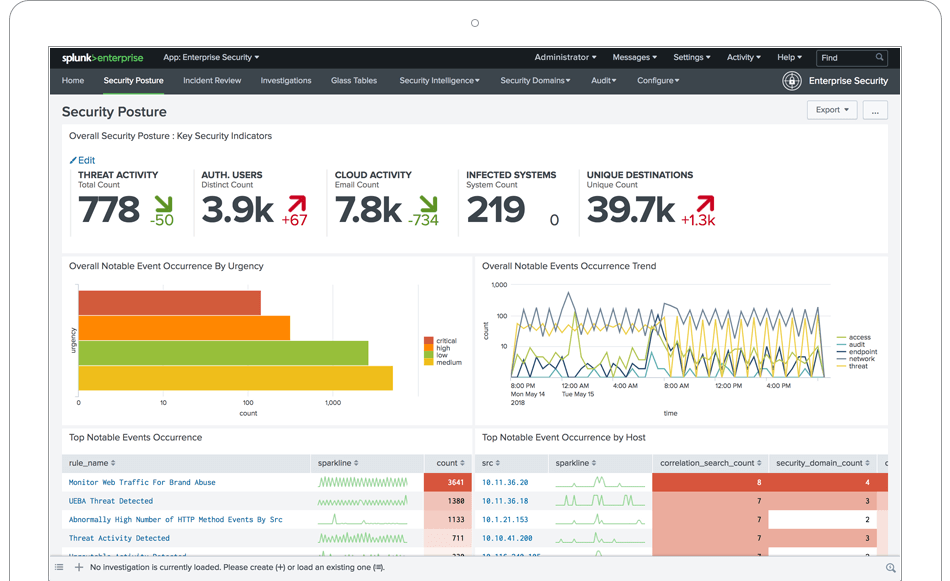 Why Splunk for Big Data?
Machine data is one of the fastest growing and complex areas of big data. It's also one of the most valuable, containing a definitive record of transactions, customer behavior, sensor readings, machine behavior, security threats, fraudulent activity and more. Splunk® software can help you unlock the hidden value of all your machine-generated data.